Help / F.A.Q.
What is Short Reckonings?
Short Reckonings is a free Web tool that helps you manage shared expenses. It calculates the fewest number of payments needed to reconcile the debts. Its light and fast user interface makes it ideal for roommates, travel buddies, family members and event organisation.
A mobile version is also available.
Please check our Terms of Service and Privacy Policy.
How can I get help?
If you need help and cannot find answers in this page, please contact us by email at:



(non-clickable image to prevent spam)
I have erased expenses by mistake, what can I do to recover them?
Please contact us by email and indicate your expense sheet reference and when the incident happened. We will do our best to recover your expenses from our backups.
Is there a mobile version of Short Reckonings?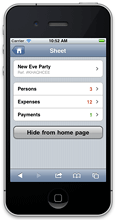 Yes! Point your smartphone to m.shortreckonings.com.
Notes:
- The mobile version is still experimental. While fully functional, it does not yet support all the features of the desktop version (archiving, offline usage, auto-complete, etc.)
- It currently only works on iOS (iPhone, iPad), Android phones and more generally, it should work fine on WebKit-based mobile browsers.
- Signing-in using your Facebook account is not possible yet but the mobile version stores on your mobile a list of all sheets you visit and create for easy access.
You can also use the regular version of Short Reckonings on your smartphone or tablet device. It has been tested successfully on several popular mobile devices: iPhone, iPad and Android smartphones. That is handy for accessing features that are not available on the mobile version yet.
What is the offline mode?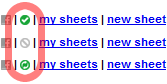 Short Recknonings can be used offline. The current offline mode is experimental and limited. It is a first step towards full offline capabilities. Here is what's currently supported:
If you loose Internet connectivity while editing an expense sheet, don't worry, you can continue to make edits, such as adding/editing expenses or persons. As soon as you are back online, Short Reckonings saves all pending changes.
Do not leave Short Reckonings, close your browser or shutdown your computer while offline otherwise you will loose all pending changes.
You can safely put your computer in sleep or hibernate mode because when you resume it, Short Reckonings is still open in your browser.
You cannot create a new expense sheet while offline. We suggest you create it -- it can be empty -- while online and then leave it open in your browser.
When offline, you can only delete expenses or persons you have added during the same offline session. You cannot delete persons or expenses that were already saved to the server.
This offline mode is particularly suitable for instable or non-permanent Internet connection, for example while roaming with a laptop. It is best suited when combined with using the sleep/hibernate mode of your laptop to ensure your expense sheet remains open in your browser.
This offline mode does not require any plugin or any specific browser. It works on all major browsers on all platforms.
In the next releases of Short Reckonings, we will add support for offline storage, which will give you the ability to create expense sheets from scratch, as well as closing your browser or shutting down your computer without loosing your changes.
Your feedback is more than welcome. The current offline mode is experimental and we'd like to know if you find it useful and if you face issues.
Why should I sign in with my Facebook account?

Short Reckonings has no registration system because that would mean yet another username and password to remember. Instead, we offer you the ability to sign in with an existing account. Facebook being one of the most popular community in the world, we have started by adding Facebook support.
Signing in with Facebook is optional. If you have no Facebook account or do not wish to sign in with your Facebook account, you can still use most Short Reckonings features.
Signing in with Facebook is primarily a way for Short Reckonings to identify yourself and recognize you when you come back. Then you can:
Save all your expense sheets to the My Sheets page in Short Reckonings;
Select among your Facebook friends when adding persons to expense sheets;
That's all! Short Reckonings is not a social application and does not let you invite friends or publish content on Facebook. Your expense sheets is private data and is never disclosed to Facebook.
First Time Sign In: The first time you sign in with Facebook, Facebook will prompt you to authorize Short Reckonings.
Can my friends be notified? Since March 2010, having your friends notified by Facebook is no longer available as Facebook has discontinued support for notifications. However, you can still select among your friends when creating sheets.

Security: At no point Short Reckonings knows your email address or Facebook password. When you sign in Facebook, this is done through a third party window that is controlled by Facebook and that Short Reckonings cannot access. For more information, please read about Facebook Connect.
What about signing in with other major sites? We plan on adding support for other major communities such as Google and Yahoo accounts. Stay tuned!
What is My Sheets and how does it works?
Whenever you create or visit a sheet, it is automatically saved into My Sheets. It is a convenient way to bookmark all sheets you are part of in one place.
Sheets can be sorted by creation date or by last updated first: click on the corresponding links in the top right corner.
You can remove sheets from My Sheets: Mouse over the sheet you want to remove and click the «×» icon in the top right corner of the row. The sheet is not really deleted, it's only hidden from My Sheets.
If you removed a sheet that you have created, it is actually moved over to the Other sheets I've created page. You can access it from My Sheets by clicking on the corresponding link in the top right corner (next to Sort by creation date).
Note: My Sheets is only available if you sign in with your Facebook account.
How can I split an expense using fixed amounts?

This is very easy to do: Switch the For whom field into non-even split mode. Then enter fixed amounts next to each person. Make sure those split-amounts sump up to you have entered in the Amount field above. See example for splitting a $100 expense between Mary ($80) and Joe ($20).
How can I split an expense using percentages?
This is very easy to do: Switch the For whom field into non-even split mode. Then enter percentages (without the % symbol) next to each person. Make sure the percentages sum up to 100%.
Can an expense amount be zero?
You can enter an expense with a zero amount. They have no impact on the payment computation. This can be handy if you don't know yet the expense amount but want to enter it now to not forget about it. Expenses with a zero amount are shown grayed out.
Can an expense amount be negative?
You can enter an expense with a negative amount. It is interpreted as a credit issued to the payer on behalf of the payees.
Example: 3 roommates share electricity bills. One of them, John, pays the bill every month. One month, instead of a bill, the electricity company issues a $60 check because it overcharged in the previous months. This check is cashed by John but he owes the 2 others their share of that credit. This can be entered in Short Reckonings as a negative payment of -60, «paid» by John, but shared among the 3 roomates («for whom?»). As a result, the system will compute that John owes $20 to each of his two roommates.
How can I enter partial debt payments?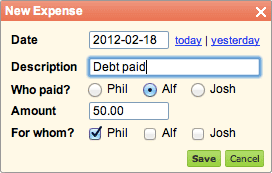 Although from the Payments tab you can only mark debts as paid in full, entering partial debt payments is possible: Enter them as regular expenses where the payer is the person owing money and the payee is the person owed money. The trick is to set the Description to be exactly «Debt paid». It has a special meaning for Short Reckonings. It treats it as a debt payment instead of a shared expense. Debt payments (full or partial) appear in italic green in the expense list. They are not counted in Number of expenses and Total Spent.
Example: Phil pays plane tickets for himself, Alf and Josh. Alf owes $100 to Phil, but as a first reimbursement, he only pays him $50 back. The solution is to enter this $50 payment as an expense called "Debt Paid". The Payments tab will show an adjusted debt of $50.
Can I use text formatting in expense descriptions?
HTML tags are not allowed but you can emphasize some text using markdown.
Supported Syntax: _text to italicize_, **text to bold**
What are sheet cloning and debt carry forward?

If you want to start a new expense sheet with the same group of person, use the «clone» entry located in the «more actions» menu (next to sheet name).
Among the benefits of cloning sheets, when entering description in the new sheet, auto-complete will complete descriptions with descriptions from parent sheets. A time-saver for recurring expense sharing patterns (monthly bill sharing with room mates for example).
Another useful feature when cloning one sheet to another is that you can ask debts from the parent sheet to be carried forward to the child sheet. By debts, we mean the list of payments that is computed by Short Reckonings (Who owes what to whom). Each individual debt is turned into an entry labelled Debt carry forward in the expense list of the child sheet. This makes the Compute Payments tab shows the same proposed payments in both sheets. This feature is especially handy to achieve accounting continuity if starting a new sheet each month for example.
Why is there sometimes a one cent balance?
On rare occasions, you may notice a 1 cent total balance. This is normal and comes from total amounts owed being rounded to the nearest cent.
Example: Bob pays 1.05 for Jim and Tom (even split). In theory, Jim and Tom both owe 1.05 / 2 = 0.525 to Bob. But 0.525 has no tangible meaning because whether you pay in cash or electronically, you can never pay fractions of cents (52 cents and half a cent in this example). Short Reckonings rounds that sum to the nearest cent, which is 53 cents according to standard accounting rules. Jim and Tom now owe 53 cents each to Bill. Which sums up to 1.06. Hence a difference of 1 cent between what Bob was supposed to receive (1.05) and what he finally receives (1.06).
What types of expenses are supported?
Expenses you enter are all considered as shared expenses: someone has paid for a group of person. However, Short Reckonings also keeps track of two other types of expense: debt carry forward (see sheet cloning) and debt repayment (when you mark a payment as paid).
Note that Number of expenses and Total Spent displayed below the sheet name and in the Compute Payments tab do only count shared expenses.
Tip: Set the description of an expense to «Debt Paid» to force Short Reckonings to handle it as a Debt repayment. This is especially handy to enter partial debt payments.
What is sheet archiving?
Archiving a sheet is a way of protecting it against inadvertent edits. An archived sheet is read-only and is labelled «archived». You can unarchive it at any time.
Archiving can be used as a convenient way of clearly indicating that an expense sheet is complete and that no further changes should be made to it. You can can also use it for temporary data protection.
To archive/unarchive a sheet, click on the «archive» entry located in the «more actions» menu (next to sheet name).
Important note: This is not a safety feature. Any user having access to a sheet can unarchive it. Archiving is not a substitute for sharing a read-only sheet with friends to whom you want to give view access only. Such a feature does not exist yet but is planned to be added in a future release.
In what languages can I enter content?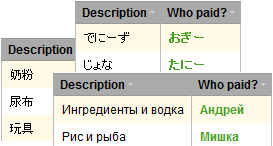 You can enter content in any language. Short Reckonings is UTF8-compliant and lets you enter descriptions and person names in any Unicode language installed on your computer.
Here is a few examples of languages other than English used by Short Reckonings users: Chinese, Japanese, Russian, Greek, German, Spanish, French.
Right-to-left languages such as Arabic and Hebrew are also supported.
How can I have Short Reckonings notify my friends about my expense sheet?

If you're signed in with your Facebook account and add Facebook friends to an expense sheet, those friends will see this sheet listed in their «My Sheets» page, under «Sheets I am invited to». Your friends need to also sign in using their Facebook account.
Facebook notifications? In March 2010, Facebook discontinued support for friend notifications. As a consequence, Short Reckonings can no longer send direct notifications to your friends. Until we find a replacement solution, you can tell your friends by sending them the sheet URL by email or any other convenient mean (IM, SMS, etc.)
Why can't I delete a person who is involved in expenses?
Deleting a person who is involved in expenses (as payer or payee) would mess up with the debt calculation. This is why Short Reckonings does only allow to delete persons that are not involved in any expense. You may want delete those expenses first but remember that Short Reckonings computes the debts from all expenses of the sheet, not just recent ones. Deleting an expense or changing the payer/payee will likely change the debts.
Prior to Sep 1, 2012, deleting such persons was allowed. After several support request calls to recover lost expenses due to person deletion, the author has decided to make this change. The desktop version is now consistent with the mobile version.
What is the Short Reckonings API?
You can use the debt-resolution algorithm in your own applications or spreadsheets by calling the Short Reckonings API. The current version is 1.0. It basically accepts a list of expenses and returns a list of payments. It has been successfully used in Google Spreadsheets for example where you can easily query remote APIs with the importData() function.
Check the API documentation for more details.
How long are my expense sheets kept by Short Reckonings?
Expense sheets are kept forever. They are mainly pieces of text data and do not consume much disk space, so we have decided to keep them all.
However, there is an exception to this rule: If your expense sheet is empty, meaning you have never entered any expense, it might end up being removed as part of regular cleaning procedure. But this will not happen before at least 3 months after you create it.
I am a fan of Short Reckonings and I want to help, what can I do?
There are many ways you can help. While Short Reckonings is a free tool, its development takes time and hosting it requires financial resources.
The best way to help us is to tell your friends about Short Reckonings! If you are a Facebook user, you can «like» our Facebook page or click on the «like» button at the top of this page.
You will also greatly help by sending your feedback: bug and annoyance reports, feature requests, testimonials, thanks, ...
You can also contribute financially by making a PayPal donation to the author. The money received will all go to hosting improvements. We aim at providing the fastest and most reliable hosting plaftorm as possible. Thank you!
And to stay tuned about the latest improvements, follow us on Twitter. We promise to not flood you with tons of tweets: only if we have something valuable to say!
What personal information does Short Reckonings access?
Who is the author of Short Reckonings?

Short Reckonings is authored by Mikaël Gravé. Mikaël has been working in the software development industry for over 20 years and is a strong advocate of Web-based software. He is also obsessed by user interfaces. Short Reckonings is a personal project where he attempts to create the smoothest user experience possible thanks to the new interface paradigms made possible by the Web 2.0 and HTML 5. Short Reckonings is also a tool that Mikael had in mind for a long time -- back to his school years -- but it is only with the recent avenue of true Web applications that he decided to take the plunge.
The author would like to thank all users that support him by sending regular feedback. Special thanks also go to the YUI team for their great open source library and support to the Web developer community.